OUR CURRENT SPONSORS & PARTNERSHIPS
Oshkosh Healthy Neighborhoods collaborates with multiple partners in our endeavours to strengthen Oshkosh's neighborhoods. The City of Oshkosh is a strong partner with the program, One Oshkosh which focuses on engaging neighborhood residents. Oshkosh works with the City program hand in hand to help better our community. Through the Rock the Block Oshkosh revitalization program Oshkosh Healthy Neighborhoods collaborates with Habitat for Humanity. Learn more about the annual project here: Rock the Block Oshkosh" 
"Oshkosh Healthy Neighborhoods is incredibly grateful for our current sponsors who support building long lasting relationships, fighting social isolation, and creating healthy neighborhoods to thrive in. Our most recent sponsors for our Block Party Trailer program are as followed: The Oshkosh Area Community Foundation, Image 360, The Exclusive Company, Kitz and Pfeil and Lowes. We have other strong donors for our multiple projects and programs but through our most successful grant, the Good Neighbor Grant, we are currently supported by The Oshkosh Area Community Foundation. Oshkosh Healthy Neighborhoods is extremely thankful for the continuous community support the organization receives."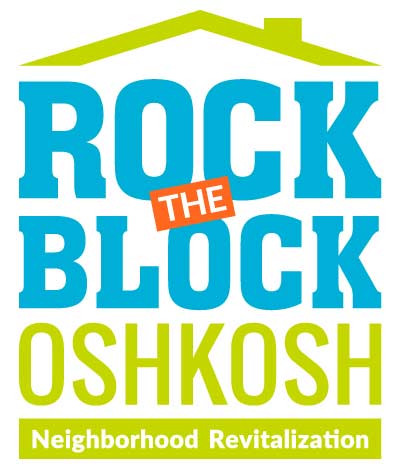 ROCK THE BLOCK NEIGHBORHOOD REVITALIZATION
Rock the Block is a Habitat for Humanity International brand that is focused on bringing people together to revitalize neighborhoods. The purpose is to get neighbors and the greater community working together to improve their city.
Rock the Block is presented by these collaborative partners: Habitat for Humanity Oshkosh, Oshkosh Healthy Neighborhoods (GO-HNI), and the City of Oshkosh.
Applications will be accepted September 1, 2021 through November 1, 2021. Click here to download an application.
NUSA (Neighborhoods USA) 2021 Neighborhood of the Year winner:  Congress Field Neighborhood Association Rock the Block Oshkosh
Midtown Neighborhood Association Chosen for the 2022 Neighborhood Revitalization!